Giving credit , where credit is due and a little something on Cornhole Etiquette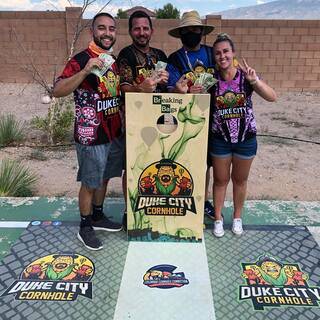 Last week I started an article on Cornhole Etiquette at the bequest of a fellow league player after a few cold ones (of water that is). I had most of it done, as I was getting ready to send to my network of people to get feedback as I usually do, I happen to see a post from a friend (BravoWhiskey) this weekend and it was a screenshot of a piece written on embracing your blind draw partner. I proceeded to click with curiosity and was lead to a Facebook Page for a cornhole group. There, they had the link for the original and full article, lo and behold, it was written by my buddy, Sean Asp- co-founder of Big Asp Cornhole Podcast.
I dove headfirst into the article and am instantly blown away by the content, he has some serious points, some comical relief and reference to anther popular article he wrote. My blog writing experience has always been of the professional type to business-related websites. Cornhole, however, is a different beast altogether and has rather consumed my life lately. I sure am glad that my boss does not mind me burying my head in the sport all hours of the day (I have been self-employed for as long as I can remember with some contract gigs mixed in). We get to be who we are and express ourselves however we want within the confines of the law.
After reading the article, it reminded me of my first time playing in a Duke City Cornhole (DCC) tournament. My DadBods partner and I signed up to play and all that was left was the Competitive division, no problem, we had finished 3rd, 2nd and 1st respectively in the last three, local-brewery, fundraiser tournaments. Little did we know that we knew little about cornhole.
We show up with our best, sporting goods store bags and thought we have this in the bag, no pun intended. After looking around, we noticed that there were a few people that we had beat at the previously mentioned tournaments. Boy were we wrong, we not only got our butts whooped, we also learned that the bags that we were using were not good bags. But let me tell you something about DCC club people, they are some of the nicest people I've ever come across in the entire country. They did not laugh or mock us for using those residue-strewing bags that we had, they did not mock us for losing 21-0 sometimes, they also did not put us down for up a couple divisions. In fact, Adrian, the owner of the home whose backyard we were playing, loaned us a set Killshots 357's and everyone gave us pointers along the way. We learned that there was no such thing as a bust rule or shunk rule. We learned a whole lot that day.
We played in a few more tournaments last summer and I immediately became hooked to the game. I joined every page there was, won a set of bags on my very first wheel spin- I was blown away that 4 bags cost twice as much a full-set from the other places- so I had refused to buy a set from the websites. Today, one could say that I am addicted to cornhole- I have now helped a smaller run league grow its members, play in league and just about any other tournament hosted by my home club, sponsored a set boards buy/sell/& trade bags, help my buddy Shannon and his brother Tommy promote their board making business, started my own DadBods Team with logo, and now writing blogs for one of the most influential bag makers in the sport.
I love introducing people to the sport or game of cornhole and see how they immediately love or hate the game. Hence the reason why Sean's article resonated with me from the get-go. When someone else does something that is better than you, we should lift those people up and give them the kudos they deserve. I reached out to Sean before posting this and asked him for his blessing before using his blog article as a reference. There is no need for me to recreate the wheel, so I am posting the link here to his Cornhole Etiquette blog, which will open in a new tab, so you will not leave this site and can still order some 4th of July Semtex bags. Or you can read it below. Either way, sit back, pop open your favorite beverage and remember why you LOVE this game.
Cornhole Etiquette by Sean Asp
Pinky's up folks. Let's chat about a little cornhole etiquette!
Now, if you're new to the game, you might be thinking, "don't we just throw the bag towards the hole? How could you mess that up?" Well Karen, in our little community, there are things that you do….and things you don't do. Let's go over some of these points!
~ You're playing in a doubles event, whether it's a BYOB (bring your own partner) or blind draw, it's only proper to offer to buy your partner a drink. This act of kindness should be reciprocated once those drinks are empty. "But what if they drink more than me?" Well Sally Sue, buckle up and keep up! Kidding of course (kind of)! In all seriousness though, offer to buy your partner a drink..it goes a long way in this community.
~ In Singles, the winner of the round should adjust the score. The loser gathers the bags. That's right, if you don't want to break your back bending over to pick up the bags, then score more points. It's that simple.
~ Don't talk to your opponent while he is throwing. Seems obvious enough right?
~ If your opponent is wearing headphones it is only right to talk in a volume that forces them to take an ear piece out…you may resume speaking as soon as they place the ear piece back in their ear
~ If you think your opponent is breaking a rule (foot foul, taking too long to throw, etc) warn them before you call them on it. This is especially true in charity events, local blind draws and leagues. I'd say it were true for all events, but if BIG money is on the line…and you really wanted to win….I guess you have the right to make that call in the act.
~ If an opponent throws out of turn (they throw first, but you scored last), give them the bag back. At the very least, give them that bag back for the first offense. If it happens repeatedly, and you want to send a subtle reminder, then by all means, take the points. A few caveats: against new players, always give them the bag back (mistakes happen); in charity events, always give them the bag back.
~ Shit talk is acceptable, but don't take it to the point where your opponent will want to fight after. If you talk shit…and LOSE…buy that opponent a beer.
~ Don't walk up the board and tell the opponent "I have been throwing like shit all day" then suddenly start playing like Matt Guy and sink 60 in a row. No one cares how you had been playing.
~ Embrace your blind draw partner like you just got paired with Jamie Graham. Ultimately, 99% of us are competing for $20-200. We aren't getting rich off of it. It's OK to want to win, but don't be the **** who ruins someone's experience because you think you are "too good". Grab a few extra beers, make a new friend and enjoy the time you are spending with your cornhole family
~ Don't give your directors, or person putting on an event, a hard time. These people are taking time out of their lives to put on an event where you can go and have fun. Show some respect, be on time and go with the flow!
~ If you show up to an event early and are warming up, don't monopolize a set of boards. Invite players to warm up with you. This isn't your personal practice session time…no one needs to watch you throw that sweet round of 6-8 points over and over again
~ In a blind draw, it's OK to let your partner know if you prefer to throw a particular series of bag, but don't demand it. If you agree to throw your partners bags, and you lose, don't complain to them after and blame it on the bag. Buy them a drink to make up for throwing like Donald McPhee
~ Fashion is obviously a top priority for cornhole players…so be prepared. Jerseys, Hats, slides (with socks of course, this isn't 2015), Crocs, Hey Dude, sleeveless shirts, no shirts, barefoot, extremely short shorts (for males) and gloves (only cornhole gloves with the ring and pinky cut out of course) are all accepted.
~ To improve your cornhole skills, it is customary to avoid practice at all cost to get better. Simply continue to purchase bags at an alarming rate until you make the pro division…if you over pay for bags, the rumor is that you get better even faster!
~ The cornhole community is made up of some of the best people in the world. 99.999% of the time we all get along and events are awesome! As a general rule of thumb, just have a good time, have a few beers and don't be an (jerk)..."
As always, I hope you throw it straight and it's nothing but four baggers from here on out!
- Sean