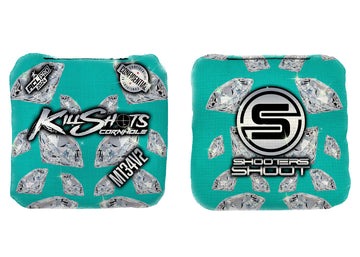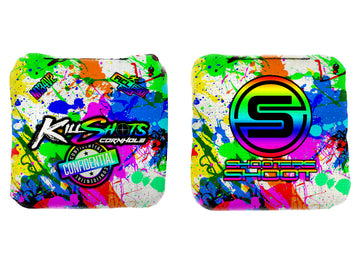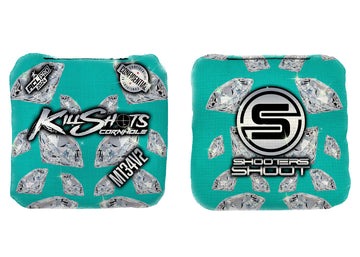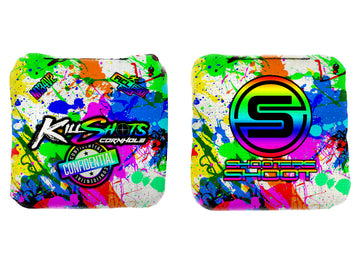 Killshots Cornhole | M134V2 Series | Limited "Limited Designs" | 2024 ACL Pro Cornhole Bags
Color:
Pro Break in (Soften Your Bags):
🏆 

ACL PRO APPROVED

: Officially approved by the American Cornhole League for professional play, meeting all size (6"x6"x1.25") and weight (16oz) requirements.

 

💪 

PRO-GRADE QUALITY

: Designed for both beginner and pro players, ensuring a premium experience for all skill levels.

 

🛡

️ Superior Durability

: Weather-resistant and built to last, these bags withstand the test of time and the elements.

 

🔄 

DUAL-SIDED MATERIAL SYSTEM

: Featuring a fast side and a slow side for the perfect balance of speed and control during gameplay.

 

🧪 

RESIN BLEND TECHNOLOGY

: Multiple resin blends formulated to provide diverse gameplay experiences and cater to individual play styles.

 

💡 

CUSTOM MILLED MATERIALS

: Exclusive, innovative materials developed through years of research to deliver optimal performance.

 

🏅 

AS SEEN ON ESPN

: Killshots bags were used to win back-to-back National Championships, proving their championship-caliber quality.

 

🏅 

AS SEEN ON CBS SPORTS

🏅 

AS SEEN ON CBS SPORTS

🎨 

EYE-CATCHING GRAPHICS

: Stand out with our eye-catching, unique designs that bring style and personality to your game.

 

🇺🇸 

MADE IN MICHIGAN

: Proudly manufactured in our Michigan facility, supporting local businesses and American craftsmanship.
INTRODUCING the Killshots Cornhole M134V2 Bag Series — your secret weapon in humid and slow board conditions. With its dual-speed ratings of 8 and 10, it's ready to tackle any challenge while paving a smooth path to victory.
The slick side, rated at 10, glides effortlessly, making pushing a breeze, while the 8-rated side offers superior control, promising unyielding precision in slower conditions, and finding its way to the whole, no matter what. 
The M134V2 features our "Marksman" resin blend fill, a true champion in delivering a straight, true playing feel. This trusted fill reduces unexpected kicks and feels just right in your hand, offering a comfortable grip as you make those winning throws.
Choose the M134V2 Bag Series for a quick, straightforward, yet versatile gameplay experience, designed to keep you a step ahead in any weather condition.
Features: 

Speed- 8 Slow 10 

 

Resin Blend- Marksman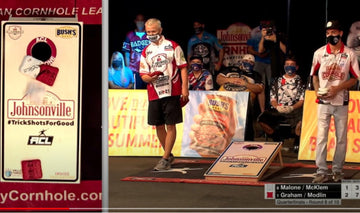 As Seen On ESPN
Watch clips from National, World Championship wins, as well as other clips from national broadcasts.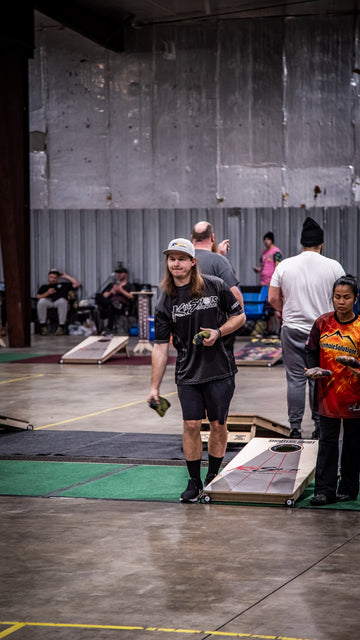 Dual Sides
Strategically place bags where you want, and have the power to push through blockers with dual sided stick and slick sides of the bag!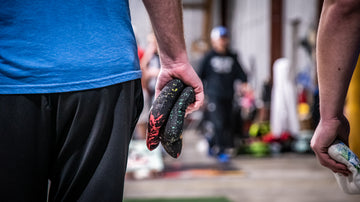 Durability
Have no worries using these bags in any condition, sunshine, mud, rain, even snow! These bags will withstand it all. Feel free to throw them in the washer after and air dry for best results.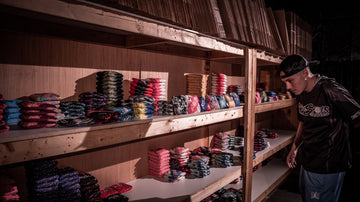 Made in the USA
Crafted and inspected by our team right here in Adrian, Michigan.
Explore the specs
This material is definitely quick, it is very very hole friendly. It has a tacky film on it to help increase grip that will wear down to be very comfortable in hand once it is broken in! It will lose the tacky feeling, without losing the added grip!
This material is a middle of the pack speed, with medium weight. It can be used as both a slick side, and slow side. So depending on what series it is used on will determine if this is the slick or slow side! Very versatile, and hole friendly.
Speed
We have developed a speed chart for the bags labeling the speed of the slower and faster side of each bag. Also there is a full and firm section. Speed is on a scale of 1-10 with 10 being the fastest.
FIRMNESS
The firmness rating is a system that determines how much flex there is in the material once FULLY broken in. This will make a bag looser in your hand. The firmer a bag is, the easier it typically is to throw it down the middle. The looser a bag is, the more hole friendliness. 1 Being firm, 5 being loose.
Bounce
Bounce is a rating that is used for your players that want to jump their bag over a blocker, or roll bags on top of bags that are blocking the hole. This is particularly useful when you are playing an opponent that wants to put a bag in front of the hole to "block" you from sliding in the hole....just bounce or roll over it.
The pros of a bouncier bag is that blockers don't effect your bag, and you can throw some really useful roll bags, the cons are the bouncier bags tend to kick more on standard slide shots if you don't throw your bag flat like a frisbee style.

1 Landing very soft, 5 bouncing.
Cut rating
The Cut rating will determine the slow side of a bags ability to maneuver from left to right or right to left if the bag is thrown on an angle. This is very useful if you have a bag that is not in the center of the board and you want to bring it back to the hole, or if there is a block bag that you want to get cut around.

1 being hard to cut, 5 cutting pretty easily.
What Thomas C. says about Gen 3 357 Series:
The fast side is perfect for my throw and I really enjoy throwing them. Much better control now and very few off the board. I recommend them to all levels of players. Thanks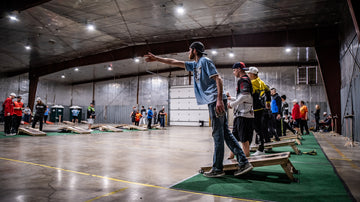 PRO BREAK IN
What is the pro break in add on?
Typically when you receive new professional cornhole bags, they have to go through a break in process to be ready for gameplay, similar to a baseball glove for reference. There are tons of random crazy ideas people have thrown out there to achieve this goal, but many will VOID your warranty. Such as boiling your bags. Many of these techniques may damage the integrity of your bag, resulting in seams busting.

The pro break in process its a process we have been working on for quite some time and finally have offered it to our customers. We will break your bags in for you, so that right out of the box they will feel great and you'll be able to toss them at your leagues, or backyard games right away!

They will still break in more once you play with them awhile, as the corners and edges of the bag continue to form. Typically they'll slow down a touch once you start to get them dirty as well! If they get too dirty, toss them in the washer with no detergent and do a couple rinse, and theyll be good as new!
Benefits
Does not void the warranty like other break in methods.
Bags play even better from Day
No seam issues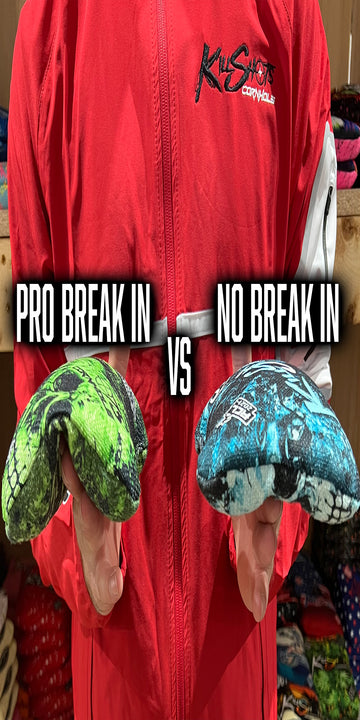 Rec break in
Takes hours of throwing if you don't use a break in technique
Typically break in techniques will void your warranty
Rec break ins could also cause seams to bust open.
Pro break in
Takes NO Additional time or steps for you
Does not void your warranty
Makes your bags feel great right out of the box and you don't have to worry about it causing seam issues!
VS